About The Artist - Exhibitions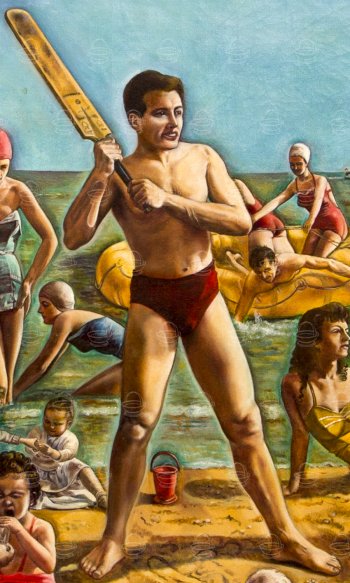 Kadish had started The Lambeth Walk before the Second World War and completed it in 1949. The painting was shown at the overflow 'Crowded Out' Royal Academy Summer Exhibition held in Blackpool the following year. It was featured on the front cover of the prestigious French journal La Revue Moderne des Arts et de la Vie. However, he was never elected a Royal Academician, unlike his contemporary at Regent Street Poly, the Anglo-Catholic Norman Blamey (1914-2000).

NMK painted and exhibited regularly throughout his artistic career. He was a member of several art societies affiliated to the Federation of British Artists: the Royal Society of Marine Painters, United Artists and the Hesketh Hubbard, whose Halliday Prize he won in 1969 for 'best portrait' of his middle daughter, Diane at 10. He showed his work at the annual exhibitions of these and other societies held at the prestigious Mall Galleries in Carlton House Terrace, in the West End, as well as locally at the 'Milldon' (Mill Hill and Hendon Art Society) of which he was a long-standing member (since 1954). He participated in exhibitions held at his local synagogue and joined the Jewish Ben Uri Art Society in 1980. He had two one-man shows in the 1980s, including at Burgh House in Hampstead in 1984.